We specialize in water leak detection services because leaking pipes and fixtures are problems you cannot set on hold for your home or business. Some leaks are obvious to pinpoint when they occur on visible faucets, toilets, or pipelines. Sometimes you can experience unusually high water bills, and it is probably due to a hidden leak. They are hard to locate and diagnose and can cause extensive damage to ceilings, floors, and furnishings. You may think that the one solution is to dig up the yard or open the wall, but this is not the answer!
In some cases, detecting the leak is a troubling process since your sewer lines and water piping system run throughout the walls, attic, and floors. However, for KBR Plumbing, this is not a problem!
You can count on our extensive practice at finding and repairing different sorts of plumbing leaks. Our specialists use high-level leak detector diagnostic tools to find the exact place of the leak after inspection. Whether you need a simple leak repair, valve or extensive repiping, we will take care of it.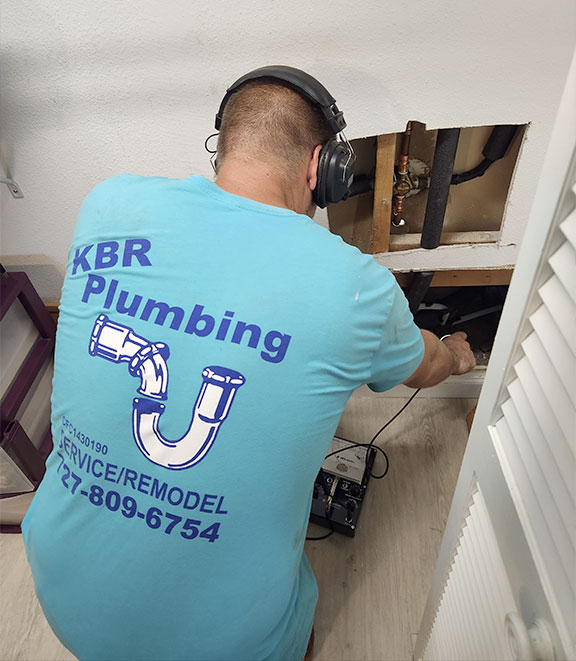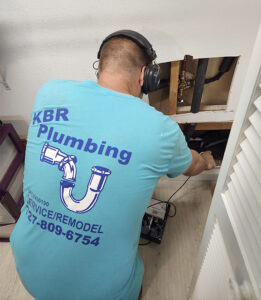 Do you have a hidden leak?
Recognize the signs of water leakage and call us as soon as possible!
Running water noise, even with the faucets and toilets off
Wet flooring, concrete floor, or carpet
Discolored or stained floor coverings
Mildewed drywall underneath the floor
Moldy smell in strange places
Unusually high water bills
Noticeable damage in the foundation
Excessive growth of vegetation in a particular place
Water Leak Detection Company Technology
KBR Plumbing uses cutting-edge tools and technologies such as acoustic listening, soil probes, or thermal imaging equipment to locate your leak. Our goal is to minimize the necessity to dig up your yard to locate and repair the leak.
Acoustic listening equipment is a technology that amplifies the sound of water leaks inside walls or under concrete slabs and finds out where the leak is.
Soil probes is a device to listen for pressurized water shooting into the soil circling the pipelines.
Symptoms of a Slab Leak & Repair Options
Slab leaks or hidden water are a common occurrence in older homes due to the aging of underground pipes and can result in water damage, rising utility bills, and even structural damage if left untreated. The signs of a slab leak may include low water pressure, hot spots on floors or walls, damp carpet or flooring, and the sound of running water when all faucets are turned off. Prompt detection and slab leak repair are crucial to avoiding permanent damage to a property's foundation and minimizing repair costs. A licensed plumber can locate and evaluate the extent of the slab leak and recommend the best course of action to mitigate the issue.
Benefits Of Leak Detection Service & Leak Repair
Reduce the amount of damage and following repair costs
Different options to decrease the expense of a permanent repair
Non-metallic technology to avoid eventual corrosion
Leak Detection Process
The leak detection process starts with an examination of your property to recognize signs of water leakage. If you have an evident leak, our technicians will fix or replace the leaking pipe or faucet.
After the source of the leak has been identified, the method of repair will be discussed with you by our skilled leak detection specialist and, they will give you an estimate. We will always present the most cost-effective approach for a permanent solution. Afterward, our professionals will test your water line to make sure that the problem is solved.
Our skilled professionals can solve all of your plumbing problems on your commercial or residential property. It doesn't matter if it is a tiny water pipe leak or a home flooding KBR Plumbing technology will identify the source of the leak without causing unnecessary damage to your home. Contact Us or call today for an estimate!